Wed 09 November 2016 | -- (permalink)
To my kids,
You don't exist, but today I couldn't stop thinking about you. You haven't even been born yet (and honestly I don't know if or when you will be), and there's already so much I want to say to you, because the world ...
---
Tue 30 December 2014 | -- (permalink)
Hi! It's been a while. How's it going?
Around here, things are moving. They're moving quickly. I've heard my professors say that a PhD is a weird time in life, because nothing really happens or changes for years in the middle of it, and then at ...
---
Wed 04 June 2014 | -- (permalink)
an interesting graph
For several popular programming languages, this chart shows the gender breakdown of the owners of public GitHub repositories. Each owner's gender was algorithmically predicted from the first name they choose to display on their GitHub profile. (Click it to see a larger static version).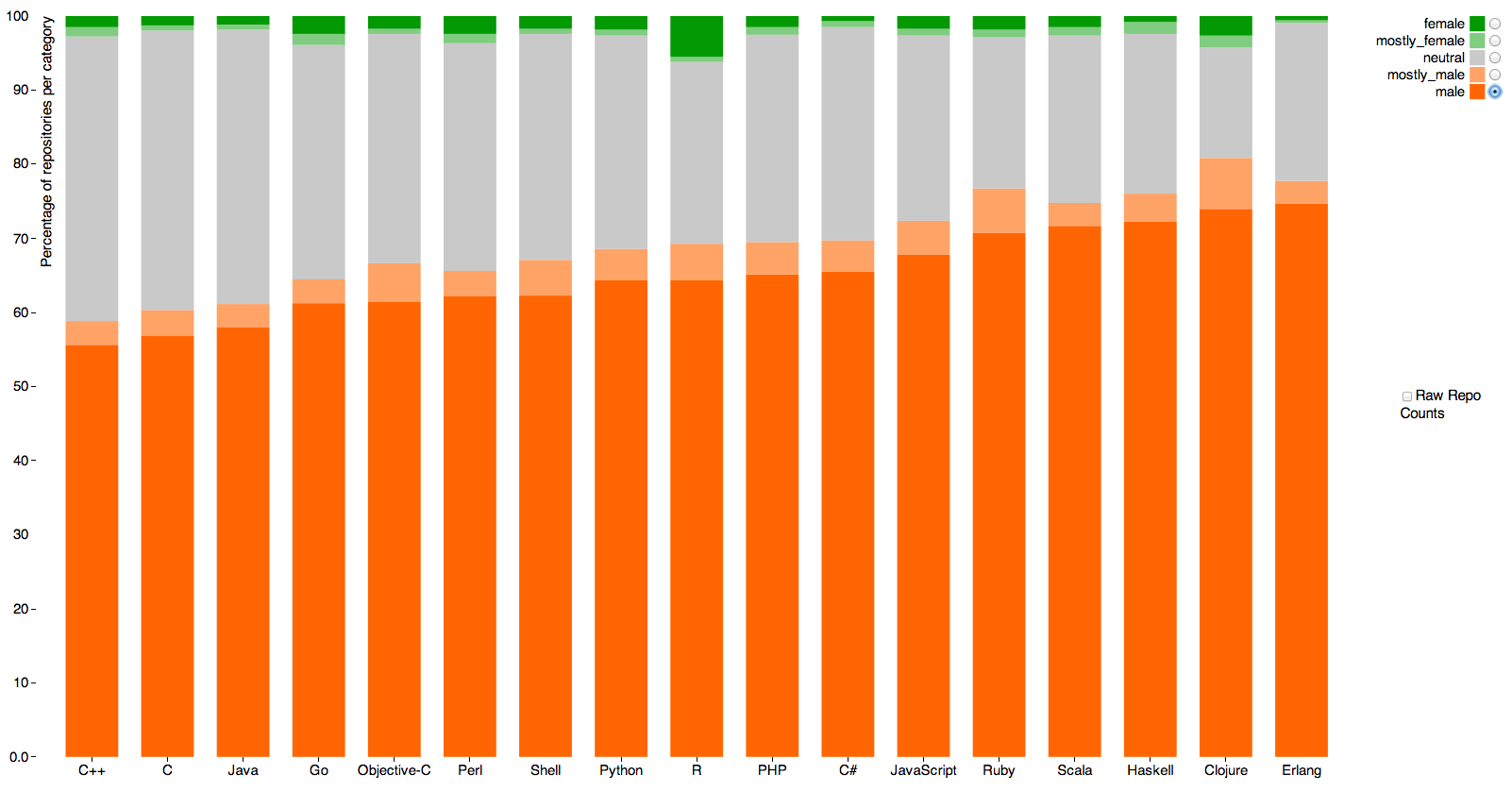 ---
Thu 01 May 2014 | -- (permalink)
Today I wanted to make a new GitHub repository from a subdirectory of an existing repository, preserving the commit history. There's a nice help article on how to do this, but I had to do a bit of exploration (read: break a few things) to learn what would happen ...
---
Sun 20 April 2014 | -- (permalink)
I spent a lot of last week documenting an R package. I'm still learning how to write good user-facing features (including documentation) in my software, so I asked Twitter for advice on two things: (1) what are some R packages with stellar documentation?, and (2) is there a documentation ...
---
Thu 10 April 2014 | -- (permalink)
My post about last week's rOpenSci hackathon came out today over at Simply Statistics. Check it out!
---
Mon 24 March 2014 | -- (permalink)
I spent most of last week at a big biostatistics conference. Overall it was a great time - there were mixers and free coffee and old friends and new friends and famous keynote speakers and lots of talks. It was also exhausing, due to the huge number of people, the early-morning ...
---
Sat 15 March 2014 | -- (permalink)
This is the story of a rabbit hole I went down on Thursday night. The unexpected consequence of this long journey was that I got brave enough to submit a pull request to a popular Python project! It was my first attempt at contributing to a large-ish open-source project, and ...
---
Thu 06 March 2014 | -- (permalink)
Choosing the perfect set of colors for a plot is hard. But people have thought a lot about this problem, and there are solutions! If you're an R user looking for publication-quality color schemes that are backed by lots of scientific research, check out RColorBrewer, or use the color ...
---
Sun 02 March 2014 | -- (permalink)
I've encountered a few hilariously useless error messages while coding recently. They got me thinking about error messages in general and wondering about the best way to build good error messages into my own software.
Some hilarious messages I've seen:
Error in listClassName("Compressed", class(x)) : Could not ...
---
Page 1 / 4 »